She's Faking It by Kristin Rockaway is a fun mix of chick-lit, self-help book, and Instagram tips. Kristin Rockaway is someone I consider a role model, and this book is her best yet. Continue reading to learn more about the novel, Kristin, and my thoughts on it.
Book Description:
You can't put a filter on reality.
Bree Bozeman isn't exactly pursuing the life of her dreams. Then again, she isn't too sure what those dreams are. After dropping out of college, she's living a pretty chill life in the surf community of Pacific Beach, San Diego… if "chill" means delivering food as a GrubGetter, and if it means "uneventful".
But when Bree starts a new Instagram account — @breebythesea — one of her posts gets a signal boost from none other than wildly popular self-help guru Demi DiPalma, owner of a lifestyle brand empire. Suddenly, Bree just might be a rising star in the world of Instagram influencing. Is this the direction her life has been lacking? It's not a career choice she'd ever seriously considered, but maybe it's a sign from the universe. After all, Demi's the real deal… right?
Everything is lining up for Bree: life goals, career, and even a blossoming romance with the chiseled guy next door, surf star Trey Cantu. But things are about to go sideways fast, and even the perfect filter's not gonna fix it. Instagram might be free, but when your life looks flawless on camera, what's the cost?
About Kristin:
Kristin Rockaway is a native New Yorker and recovering corporate software engineer. After working in the IT industry for far too many years, she finally traded the city for the surf and chased her dreams out to Southern California, where she spends her days happily writing stories instead of code. When she's not working, she enjoys spending time with her husband and son, browsing the aisles of her neighborhood bookstores, and trying to catch up on sleep.
You can learn more about her and her books at kristinrockaway.com.
Review:
I recommended Kristin's previous two novels on my Best Books of 2019 post, and this is by far my favorite. It was not only fun and romantic but it inspired me to think positive so that I can attract positive things into my life.
Bree is searching for her passion. She has no ambitions besides paying her rent on time. But her sister believes in the Law of Attraction, that if you visualize the life you want and put positive energy into the universe, your dreams will come true. Until then, "Fake it until you make it."
It was fun to follow Bree as her perspective changed. The ways her visions manifested were hilarious. The novel explored the nuances of this philosophy and that not everything can be wished into existence. I also loved the relationship between Bree and her sister, and of course, the sexy romance.
I love books that teach me new things and help me see life in a different way. While reading the novel, I saw how sometimes I talk myself out of trying new things. Like Bree, I tend to focus on the negative. I had to attend a meeting and was envisioning how boring it would be. But I decided to think the opposite and arrived at the meeting with a different mindset. Just by changing my perspective, I was able to enjoy myself.
Not only that, but the book inspired me to create my own vision board.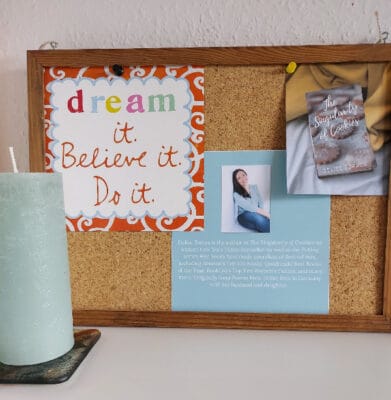 I took a photo of a book and pasted a mock cover for my WIP, The Singularity of Cookies, as it if were featured on Bookstagram. And I wrote an author bio for myself to manifest my dreams. My book becomes an instant New York Times bestseller. I'm an author of multiple books that have appeared on multiple Best-Of lists. I'm keeping the vision board on my desk so I can see it every day and remind myself why I keep going.
Have you read a novel that has inspired you in real life? What did you learn?