Earlier this month, I went on vacation to Juist, an island in the North Sea of Germany. It was a great way to relax, unwind, and disconnect. Here are some of the highlights:
Getting There
Juist is located just 7 km (4 miles) off the mainland and is accessible by ferry or plane. We decided to go by ferry since it's cheaper and only a 90-minute ride. There's also food on board.
If you carry a lot of luggage (like we did), they have a very neat system. They use a transport carrier (similar to what they use in airports) with multiple containers. You place your luggage in one of the containers, make a note of the number, and just pick it up once you arrive.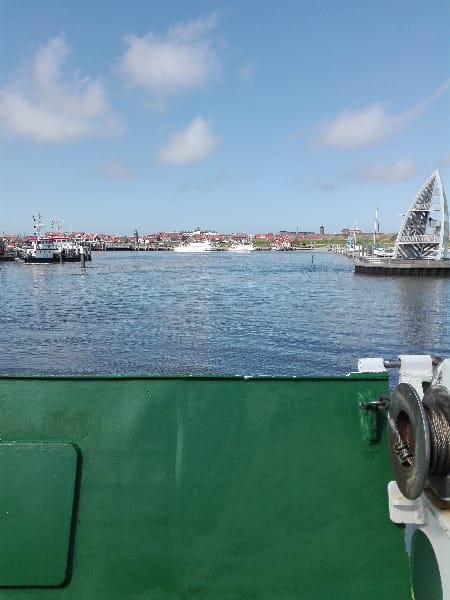 No cars allowed
Juist is a car-free zone, so the only modes of transportation are horse carriage, bicycle, pedal car, or walking. Horse carriages are used for bulk transport and as public transportation. We had to pay a service to transport our luggage, and by service, I mean a man on a bicycle with a wagon attached. Most of the houses on land are vacation rentals and they offer wagons for their guests to use. All the wagons are marked with the house's name (they all have cool names like Walrus or Sea Greeting). Just search for yours and go!
Miles and miles of beach
There are 17 km (11 miles) of beach available, which is easily accessible from all sides. Because of the wind, sitting on the beach can get quite cold. Because of this, Germans use hooded beach chairs or Strandkörbe, which you have to pay to use. Walking along the shore you can find jellyfish and thousands of seashells (some of which we collected and brought home as a souvenir).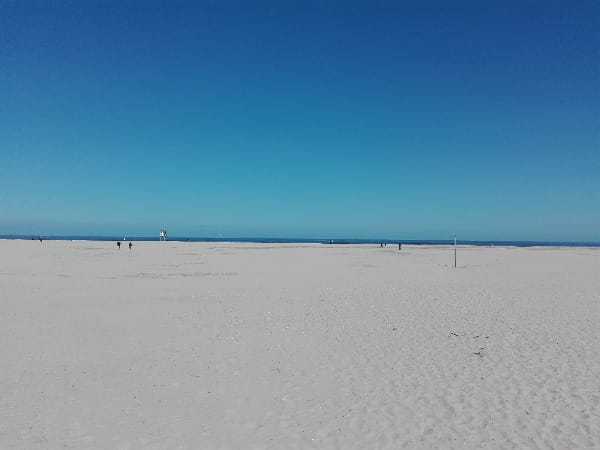 Wattenmeer (Wadden Sea)
The Wadden Sea is an intertidal zone, meaning that the water level varies during the day (high tide and low tide). When there is low tide, you can walk on the surface. In 2009, the Wadden Sea was named a UNESCO World Heritage Site.
We took a short 1-hour tour of the Wadden Sea where we were introduced to its flora and fauna, mainly snails and worms. Since it was warm, we could walk barefoot and got all muddy in the process.
Fish, Tea, and Sanddorn
We ate lots of fish: fried, smoked, and brined. Not only can you enjoy fish in restaurants but you can also buy it fresh directly from the fish market. They also have tours for shrimp fishing and they cook the shrimp right on board. Sadly, we didn't have time for this, but we did buy some fresh shrimp to eat at our apartment (yum!).
There are also many tea houses where they serve all types of tea with milk and sugar cubes. The most typical tea for the area is Ostfriesentee, a mix of different types of black teas.
Sanddorn or common sea buckthorn is a type of berry that grows on the island. It can be used in drinks, liquors, or added to other foods, like cake. It is a bit sour but diluted with water and some added sugar it's very refreshing. We brought home some liquor to give to family.
I really enjoyed our trip, although it was exhausting due to all the walking we had to do since I can't ride a bicycle. We had great weather as you can see from the photos, which is not the typical weather for the season. It was supposed to be gray, windy, and cold, but we lucked out!
Did you enjoy this post? Let me know in the comments below.