Here's the most typical food you will find in Puerto Rico. It's not a comprehensive list by any means but it should give you an idea of what to expect when you visit the island.
Rice & Beans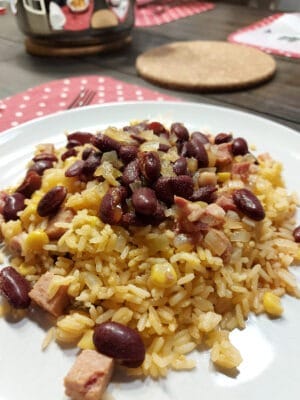 This is a staple food in Puerto Rico, eaten on its own or with "mestura" or a side. The most common combination is plain white rice with a side of stewed kidney beans, but you can also find pink or white beans. One variation of this is the "arroz mamposteao" which uses leftover rice and beans, mixed together and fried in the pan before serving.
Another variation is the "arroz con gandules" which is similar to the "arroz mamposteao" but uses pigeon peas instead of beans and is typical during Christmas.
Besides plain white rice, Puerto Ricans make all sorts of stewed rice, cooking the rice with sofrito (a mixture of ground onions, bell peppers, and cilantro), tomato sauce, and anything else the heart desires like canned vegetables (either mixed or just corn), jamonilla (our word for Spam), chicken pieces (with bone), or salchichas.
Meat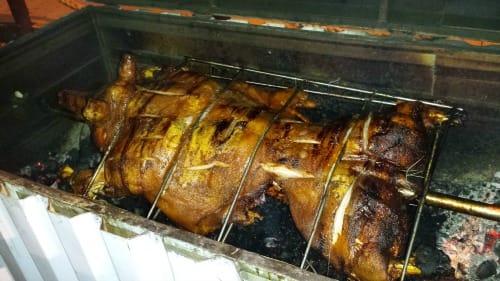 Puerto Ricans are not vegetarian, and our meals are usually accompanied with a side of pork, chicken, or cheap cuts of beef. The most typical Puerto Rican meat dish is "lechón" or roasted pork. The pig is roasted in its entirety on a stick and cooked over a fire. This is a traditional Christmas dish but you can also find in year round in the lechoneras.
Other typical meat dishes in Puerto Rico are:
Chuletas (pork chops) – one specialty is chuletas can-can where the pork chop is surrounded by fat cut to resemble a can-can skirt.
Churrasco (skirt steak) – this cut of meat comes from the diaphragm muscle of the cow.
Pinchos – this is a kebab-style of pork or chicken, grilled, slathered with barbecue sauce with a slice of our typical bread (pan sobao) or a tostón. Sold in food trucks on the side of the road, at town festivals, or at the beach.
Bistec – in Puerto Rico, this refers to cube steak, which is a cut of beef tenderized and flattened with a tenderizer. It's mostly prepared fried with onions (bistec encebollado).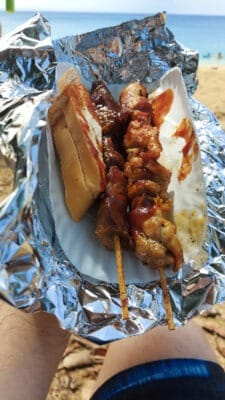 Plantains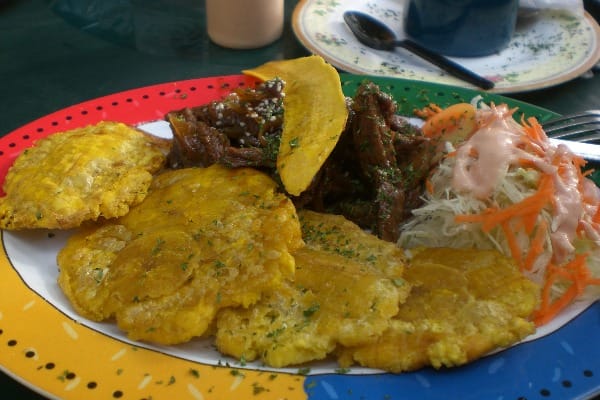 To round ot a meal of rice, beans, and meat, we have plantains, in different variations. Eaten green or ripe it forms part of several dishes:
Tostones – twice-fried green plantains
Amarillos – fried ripe plantains
Arañitas – grated green plantain, fried in bunches to give the appearance of spider legs
Platanutres – thinly-sliced fried green plantain.
Mofongo – Puerto Rico's signature dish. It starts like tostones, but after the first frying, it is mashed with garlic and pork fat, then formed into a ball and served as a side. It can also be eaten stuffed with meat, fish, or seafood.
Pastelón – the Puerto Rican lasagna, using fried amarillos instead of pasta. The amarillos are either sliced and placed scalloped on a pan or mashed. A layer of ground beef is placed on top, followed by another layer of amarillos, then covered with cheese and baked.
Canoas – this is a similar combination of amarillos and ground beef to the pastelón, but the amarillos are used whole, sliced in the middle, stuffed with the meat, then covered with cheese and baked.
Viandas
If you don't like plantain, Puerto Rico has other starchy substitutes: yuca (cassava), yautía (taro root), batata, pana, and green bananas. They're mostly prepared boiled and eaten as a side or combined together as a main dish with codfish (bacalao).
You can find tostones made out of yuca or batata (which is slightly sweet) and mofongo made out of yuca or even trifongo made out of yuca, yautía, and plantain. Green bananas are the main ingredient for out pasteles, a typical Christmas food, similar to Mexican tamales.
Frituras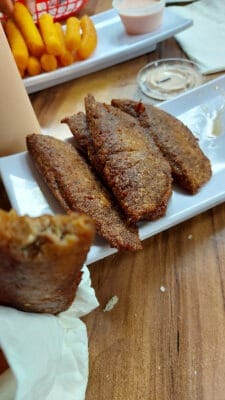 Frituras are deep-fried goodies that you can eat on-the-go for a quick meal.
Alcapurrias – these are made with green bananas and yautía, and stuffed with ground beef. You can also find them made out of yuca.
Rellenos – mashed potatoes stuffed with ground beef and made into a ball, then fried. You can also find rellenos made out of mashed ripe plantain, which gives them a sweet touch.
Bacalaítos – a batter mixed with dried pieces of codfish, scooped into a frier.
Pastelillos/Empanadillas – wheat turnovers, stuffed with ground beef, cheese, or fish.
Surtido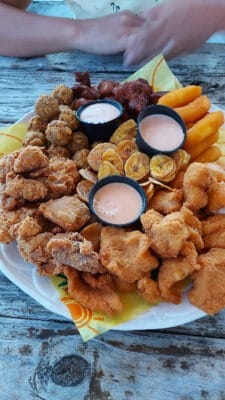 Surtidos are sampler appetizer platters you can order at restaurants. The amount and variety of the types of appetizers depends, but they usually contain the following:
Carne frita – fried pork meat chunks
Masitas de pollo – fried chicken chunks (similar to nuggets)
Masitas the pescado – fried fish chunks
Queso frito – our queso fresco (fresh cheese) cut into cubes and fried
Platanutres
Sorrullitos – made with corn meal, sugar, and milk, then rolled into "fingers" and fried
Mayo Ketchup – the dip to conquer all dips, made with ketchup, mayonnaise, and garlic. Also used as a salad dressing.
---
Which of these typical Puerto Rican dishes has your mouth watering? If you've tried any of these, what are your favorites? For me, I've always loved alcapurrias and any combination of plantains and ground beef.