Christmas in Puerto Rico combines traditions from the United States, Spain, and the Caribbean to create something awesome and completely our own.
Here are 4 things that make Christmas in Puerto Rico unique:
Puerto Rico has one of the longest Christmas seasons in the world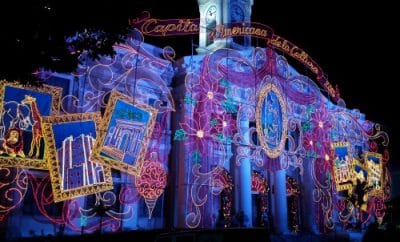 Since Puerto Rico is a territory of the United States, it celebrates the same holidays, so Christmas officially starts on Thanksgiving day. We celebrate it in the same way as in the US, with gratitude, turkey, and Black Friday, but include our own typical Christmas food (see below).
After the 25th, Christmas is not over, since we still have Three King's Day on January 6th. The day before, children collect grass in a cardboard box and place it under the tree, along with a bowl of water for the camels. Then the Three Kings leave presents under the tree.
The Christmas season mostly ends after that. But there is still one more festivity left – the Festival of San Sebastian Street in Old San Juan. This is celebrated on the third Thursday of January and lasts until Sunday. It includes singing, drinking, and artisans.
Day of the Innocents – Festival of Masks
December 28 commemorates the massacre of innocents by Herod in Jerusalem, as told by the Book of Matthew. In Puerto Rico, it morphed into a day for playing pranks, similar to April Fool's Day. In the western region, it is traditional for men to dress up in elaborate costumes and masks and parade through town. The Festival of Masks in Hatillo is the biggest of these celebrations.
Parrandas – Christmas caroling Puerto Rican style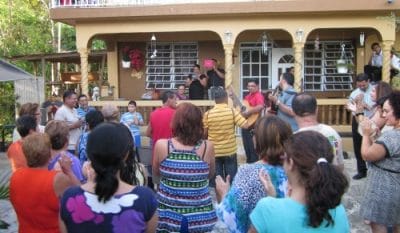 Puerto Ricans don't just carol, they party and carry their own instruments. Parrandas occur all over the place – at work, at school, after church. In the most traditional version, a group meets outside a friend's house during the night and "assault" them with music. The group sings until the owner invites them into the house, and he must provide food and drink to the singers.
People often announce parrandas ahead of time so the owner of the house has time to prepare.
Amazing food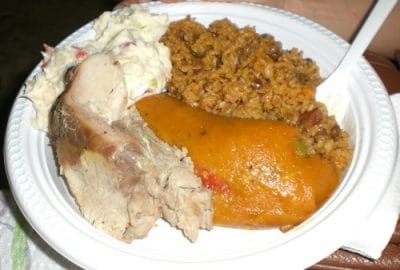 Arroz con gandules – rice with pigeon peas
Lechón – slow-roasted pig on a spit
Pasteles – a batter (masa) of grated green bananas stuffed with a stew (typically of pork meat) and wrapped in banana leaves. They are frozen after assembly and must be cooked in boiling water and unwrapped before eating.
Arroz con dulce – a sweet rice pudding made with coconut milk and cinnamon
Tembleque – a pudding-like dessert made with coconut milk
Coquito – a drink made with (you guessed it!) coconut milk, sweetened condensed milk, eggnog, and rum.
I may be biased, but I think Puerto Rico has the best Christmas season in the world. What do you think? Let me know in the comments below.
And now, if you'll excuse me, I'm going to enjoy a nice glass of my self-made coquito.
¡Feliz Navidad, próspero año y felicidad!