This is Part 3 in my continuing series on surviving in Germany based on my experiences. Now that you've mastered the language and found a job, the next step is to rent an apartment.
The process of renting an apartment in Germany is pretty similar to the US: you look online or through the classified ads, and call to make an appointment to see it. However, there are a few things to keep in mind:
Number of rooms
In advertisements, the number of rooms includes all rooms beside the bathroom and kitchen, so a 3-Zimmer or 3-room apartment does not have three bedrooms, it has a living room and two bedrooms. Since in most cases, bedrooms don't have built-in closet space (see #5), you can configure the rooms any way you want, so you may use one of the rooms as a dining room, etc.

Number of floors
They're counted differently, so erste Obergeschoss or first floor is actually the second floor in a building. The first floor is designated as the ground floor or Erdgeschoss. This is especially good to know when visiting a store with multiple floors-you have to know which floor you need to go to!

No built-in kitchen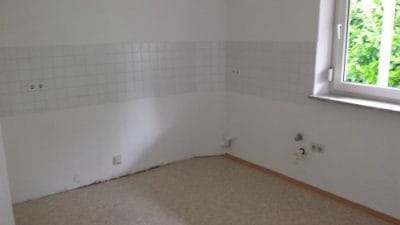 By that I mean, that you have the space for a kitchen, including plumbing and electrical/gas connections, but the room is completely empty, no cabinets or counters, nothing. You have to go to a furniture store and buy everything you need. Some people sell the kitchen to the next renter when they move out, so you can negotiate a price with them. Other apartments include the kitchen and appliances, but it is rare.
Lack of lighting fixtures
The same goes for lighting fixtures. You may have only a single light bulb or nothing at all.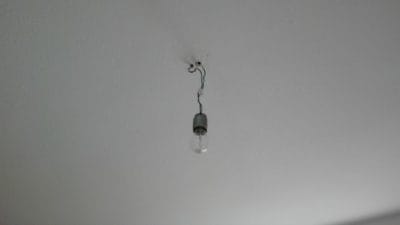 No closet space
If you're lucky, you may find an apartment with built-in closets, but that is the exception. The rule is to have wardrobes. They sell them for every purpose, in different sizes and styles, so you can buy one for the bathroom or for the entry hallway to keep coats. The point is: you are responsible for customizing your living space, it is not the responsibility of the owner.
Shared cleaning duties
Some apartments for rent are inside a house and the responsibility of taking care of it is shared by all occupants. That means, that the people who live there are responsible for cleaning the staircase, front sidewalk, and for putting out the trash bins. It is usually done on a rotational basis, and all neighbors share in the work.
Basement use
Neighbors also share basement/garden space (if the house has them). The basement will have allocated locations for the washer/dryer for each neighbor and a water connection/meter for each one. Each neighbor will also have an allocated storage space or room.
Advance notice
If you plan on moving, you have to give three months advance notice (in writing). If you move before this time, you still have to pay the rent, unless you find someone who can move in and take over the rent for you. You would also be responsible for the house duties for those three months.
Do you or someone you know have an experience living in Germany? Anything else to add? Let me know in the comments below.