This is part of my ongoing series on surviving in Germany based on my experiences. Today we will focus on the food. Everybody knows German food includes sausages and sauerkraut, but there is so much more than that. Here's a list of German staples and some of the weird food I've encountered.
Bread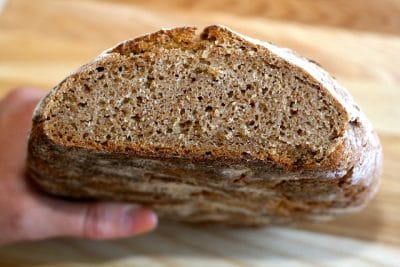 Germany produces more varieties of bread than any other country. There are bread rolls, sourdough, whole wheat, with sunflower seeds, pumpernickel. The list goes on and on. Bread is a staple food, mostly eaten for breakfast with an assortment of sweet and savory toppings like jelly, Nutella, sausages, and cheese. Most Germans eat only one cooked food a day, usually for lunch, which means they also eat bread for dinner or Abendbrot.
What I found most curious is how to eat the bread. Germans spread butter on a slice, clean the knife on the other side, and add slices of cheese, sausage, or boiled eggs on top (not combined, but one slice for each type of topping). Making sandwiches is not common, so you eat them open-face. For breakfast, one can spread Quark, or curd cheese, and top with jelly.
Cake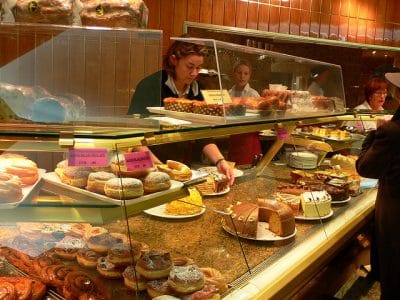 Germany has hundreds of cake recipes, from simple yeast doughs topped with fruits and gelatin, to more elaborate ones with whipped cream. This is another staple food, mostly consumed on weekends and family occasions. Four PM is the time for coffee and cake (Kaffee und Kuchen).
Chocolate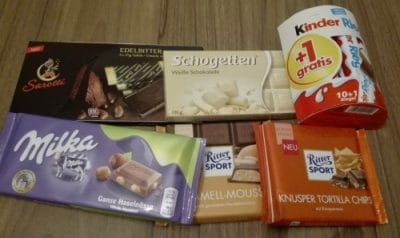 Germans are one of the world's top chocolate consumers, second only to the Swiss. Germany is also one of the world's top chocolate producers with brands like Ritter Sport, Milka, and Kinder.
Asparagus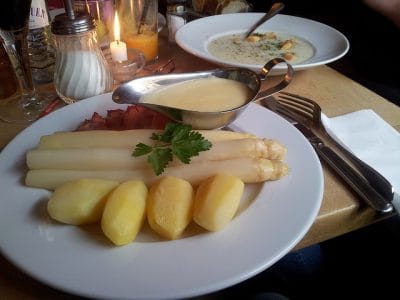 When May arrives, Germans go crazy for white asparagus. This asparagus grows underground, so they don't produce chlorophyll and turn green. It is most commonly served with ham, potatoes, and hollandaise sauce.
Mett
This is one of Germany's weird foods and my husband's favorite. Mett is raw, ground pork meat, seasoned with salt and pepper. You can buy it fresh at the supermarkets or at the deli counter served with onions and a bread roll.
Wurstsalat (Sausage Salad)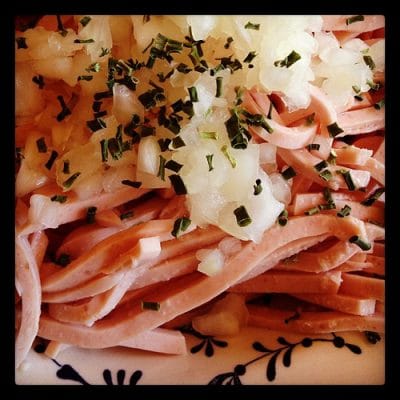 The first time I encountered this dish on a menu, I thought it was a normal salad with lettuce, tomatoes, and sausage pieces. To my surprise, it is actually a salad made out of sausage, and the only vegetable in sight is onion.
Fleischkäse/Leberkäse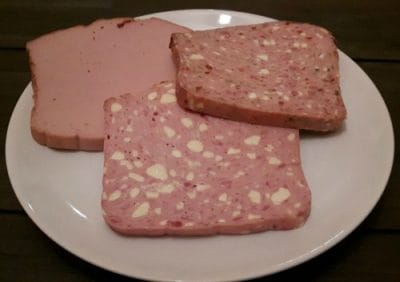 Fleischkäse is made out of corned beef, pork, bacon, and onions, ground together and "formed" in a bread pan, hence the shape. It can be baked as a whole or fried by the slice. You can eat it in a bread roll for a quick lunch. You can find varieties with cheese (Käse Fleischkäse, literally "cheese meat cheese") or with cheese, pieces of ham, and bell peppers (Pizza Fleischkäse).
Zwiebelkuchen (Onion Cake)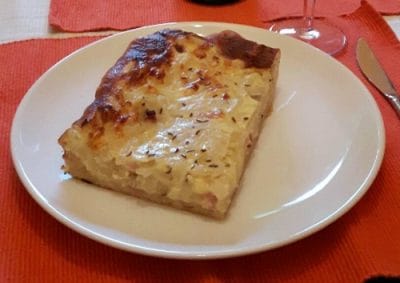 Onion cake is not sweet like I thought the first time I heard the name. It is actually more like a thick pizza dough topped with creme fraiche, roasted onions, and bacon. This is my favorite dish, prepared by my dear husband, and I look forward to it every fall, accompanied with a glass of Federweiser or sweet wine (more on that on my next post).
Dampfnudel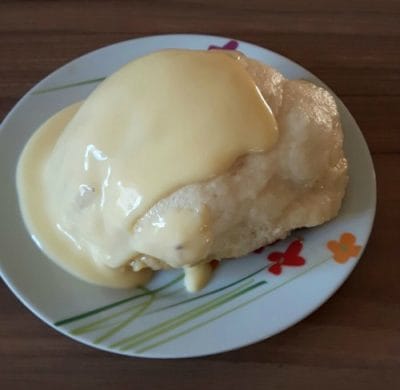 Dampfnudel is in most parts a sweet dish, served as the main course. However, in some regions of Germany, it is salty and eaten as a side to savory dishes. We will focus here more on the sweet variety. The Dampfnudel is usually a simple sweet yeast dough dumpling steam-cooked in a closed pan with milk, butter, and sugar. At the end of the cooking time the water evaporates and a caramel crust forms. You usually eat it with vanilla sauce. In Austria, they call this dish Germknödel, filled with fruit jams or a poppy seed paste.
Have you tried any of these foods? What else should be on the list? Let me know in the comments below.
Learn more about German foods at Germanfoods.org