This post was inspired by my recent read: She's Faking It by Kristin Rockaway. This is a story about Bree, a woman who starts using the Law of Attraction to visualize the life she wants and put positive energy into the universe. I love books that teach me new things and help me see life in a different way so I decided to create my own vision board!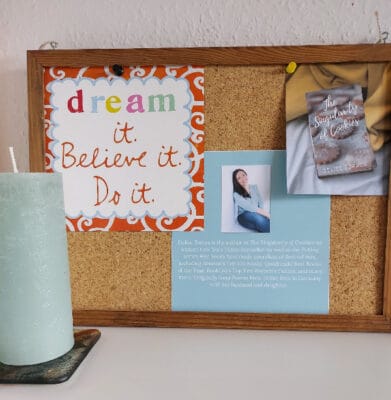 I took a photo of a book and pasted a mock cover for my WIP, The Singularity of Cookies, as it if were featured on Bookstagram. And I wrote an author bio for myself to manifest my dreams. My book becomes an instant New York Times bestseller. I'm an author of multiple books that have appeared on multiple Best-Of lists. I'm keeping the vision board on my desk so I can see it every day and remind myself why I keep going.
But a vision board is not enough so I wanted to write about the ways I'm making my goal of having a successful author career a reality. One of the principles of the Law of Attraction is to act as if you already have what you want. Here are the 5 ways I'm manifesting my author career.
1. Having a Realistic and Concrete Plan
I've done my research and I know what is expected of authors. I read recent books in my genre to stay up-to-date on what sells and what readers are looking for. I do write what I want but I also keep in mind that writing is a business and that my book has to be marketable.
Armed with this information, I'm confident that my book can compete with current books in my genre and that I should aim to be traditionally published.
It's important to have a plan if you want to have a career as an author. Do you have the discipline to write on a deadline? Are your story ideas and writing style marketable? Are you willing to dedicate time to marketing your book, which is expected of modern authors? All of these questions help to define what you really want from your author career.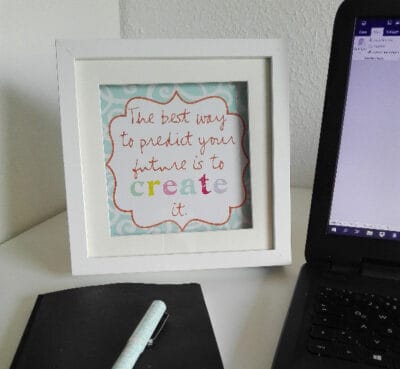 2. Treating Writing Like a Job
I'm lucky enough to be able to stay at home and dedicate myself to my author career. I try to regiment my day so that I can do at least 2 hours of writing, 1 hour of social media, and 1 hour to any other area I need to work on, like writing a blog post or critiquing. It helps give me a routine during the day, leaving the weekends for family activities and hobbies.
If you don't have as much free time, try to carve out dedicated writing time. Most authors have a primary source of income and yet, they must have the time in order to keep selling books. Find what works for you.
A good technique for carving out time is the use of time blocking. Even if you only have 30 minutes, three times a week, you should have a schedule and stick to it.
3. Having a Website and Social Media Presence
Modern authors, either traditional or self-published, must be able to market their books. That means having a website and a social media presence. Authors need to have a direct path to readers to inform them about new books and giveaways. Therefore it's essential to build your platform even before the book is ready for sale.
I set up my website back in 2016 right before I started querying my first novel. My main goal was to attract an agent. They usually check if an author has a social media presence, and some have mentioned how it can give you an edge when submitting the book to a publisher. I've created content over the years, all with a future reader in mind. Once I have fans, they'll be able to find more about me and my journey.
I have aesthetic boards for my novels on Pinterest and playlists for each novel on Spotify, as an extra for fans. Even if nobody sees or listens to any of this now, it motivates me to know that I have it set up. And again, I'm acting as if my novel were already published.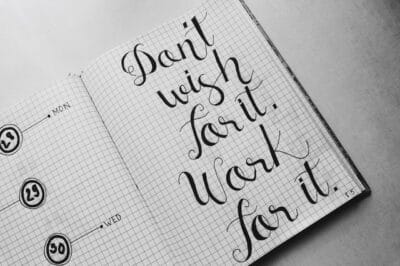 4. Building a Network
Writers always need other writers, not only for support, but also to critique our work. It's essential then to connect to other like-minded authors, ones who also know what sells and will give you honest feedback.
One way to build a network is to join a writer's association, like the Women's Fiction Writers Association I belong to. With my membership fee, I have access to tons of resources: webinars, workshops, mentors, and critique groups. Another way is to connect to other writers on social media, like Twitter or Instagram.
5. Continuously Improving
Being a writer requires adapting to new trends and always challenging yourself to be better. Therefore, it's important to keep learning the craft, to make your writing stronger. Check out my recommendations on my favorite resources for writers.
How are you manifesting your author career? What keeps you motivated to keep going?